In the last decade, videos have grown into one of the highest performing marketing tools out there. And it doesn't show signs of slowing down in the coming decade. According to a recent study by Wyzowl, the majority of marketers (85%) are using videos in their marketing campaigns. That number has grown significantly from 61% in 2016.
The study further reveals that 92% of those marketers feel that video marketing is an important aspect of their overall marketing strategy. The popularity of video marketing among marketers perhaps can be attributed to the fact that it brings in positive ROI.
If you still haven't integrated videos into your marketing campaign, now is the right time to start. We've done a review of the best video makers on the desktop not too long ago. Today, we're going to shift our focus on the best mobile video editing apps on Android and iOS
Quik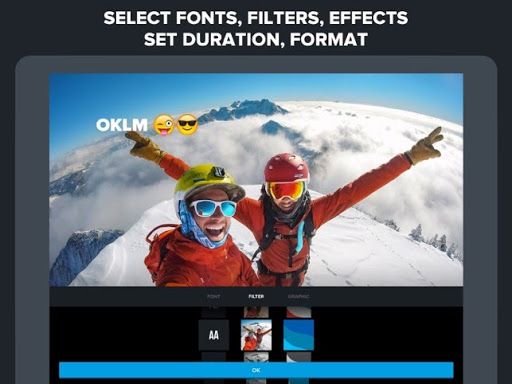 If you're looking to make a quick edit of your video, then Quik is the app to go. This app is created by GoPro and available on both Android and iOS. It currently holds a rating of 4.7 from 1.2 million votes on the Play Store and a rating of 4.9 from 200 thousand votes on the App Store.
Pros: Automatic features that make video editing very easy and quick. It can automatically import your video footage, trim and edit your clips, add transitions and even music in the video. You can also add photos and time-lapse sequences to your video.
Cons: Because it focuses heavily on quick editing, Quik has less complete features when compared to other video editing apps.
Horizon Camera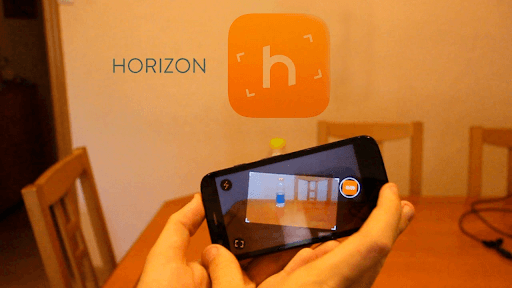 Shooting videos steadily, especially while on the move, seems to be most people's problem. By installing Horizon Camera on your smartphone, you can solve that problem easily. This app allows you to shoot videos horizontally no matter how your phone is tilted.
It's available on both Android and iOS, with ratings of 4 from 11,000 votes on Android and 3.8 from 44 reviews on iOS. If you're the type of person who likes capturing moments wherever you go, adding Horizon Camera to your phone might not be such a bad idea.
Pros: Very simple, easy to use, and helpful. With this app, you can just grab your smartphone and start shooting without worrying about the angle and stability if something interesting happens while you're on the move. It also offers a slow-mo recording.
Cons: The app developer seems to favor iOS more than Android because the Android version is not as advanced and complete as the iOS version.
Viva Video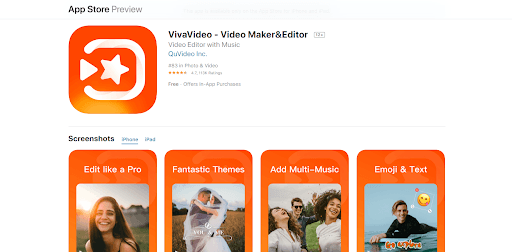 Viva Video is a video editing app that's best suited to create short clips on social media. The fact that Viva Video was voted as the "Best Free Video Editor App" by Android bloggers in 2019 should be enough to convince you that it's worth a try. It currently holds a rating of 4.5 from 11 million votes on the Play Store and a rating of 4.7 from 112 thousand reviews on the App Store.
Pros: You can do almost anything you want when it comes to video editing: cut, trim, crop, and merge video, as well as add music and text to video. It offers complete features with over 200 video filters, 100 fonts and text styles, as well as various music and sound effects.
Cons: The free version comes with a watermark. To remove it, you have to buy the pro version for €0.99 – €32.99 or about $1.07 – $35.70.
Filmmaker Pro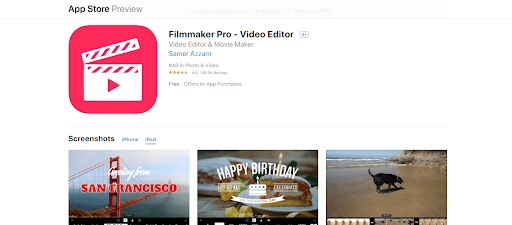 If you're looking for a more technical video editing app that allows you to have full control of the whole video editing process, try Filmmaker Pro. This app allows you to create and manage unlimited projects, adjust the video color grading, adjust video playback speed, access underlying asset in a project, and many other things.
While the free version is great, you have to make in-app purchases to access the full features. You only have to pay $69.99 once to access all of its features for life. To date, Filmmaker Pro has accumulated a rating of 4.6 from 138,166 reviews on the App Store.
Pros: Complete features needed to make great videos: 39 transition options, 30 expertly-crafted filters, 72 custom-made audio tracks, 286 text overlays, 309 illustrations & stickers, and countless others.
Cons: Unfortunately, it's made exclusively for iOS. Meaning that Android users won't be able to use it in the meantime.
Magisto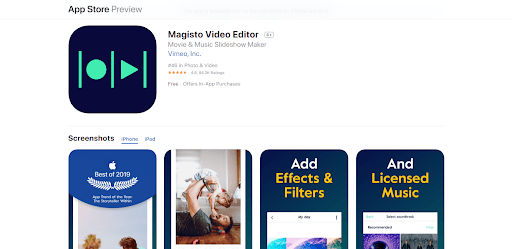 Magisto is an award-winning video editing app that's truly an embodiment of "maximum gain with minimum effort". With this app, you can create professional-looking Instagram posts and Story quickly in just four steps.
First, you need to pick the editing style (Traveler, Fashion, etc.). Then, add images or video footage to include in your video. After that, select a licensed music track from Magisto's library. Finally, click "Make my Movie" and this app will automatically create and edit the videos for you using AI (artificial intelligence).
Magisto is available on both the App Store and Play Store. It currently holds a rating of 3.8 with over a million votes on Play Store and a rating of 4.6 with over 80 thousand reviews on the App Store.
Pros: One of the few advanced video editing apps that use AI to automatically create videos for users. No need to waste hours just to craft a single video.
Cons: The free version is extremely limited, you're even required to pay just to save a video. Also, you can't create and edit videos manually as the AI has done it all for you.
Conclussion
Each of the 5 video editing tools in this article is made for different people with different needs. If you need apps to create videos easily and quickly, use Magisto and Quik. If you like to create videos manually and take control of the process, Viva Video and Filmmaker Pro are definitely for you. If you're constantly on the move and like to shoot videos, try Horizon Camera.
There's no such thing as one fits all kinds of apps. Choose your video editing app carefully based on your specific needs.
Author's Bio
Andre Oentoro is one of the co-founders of Milkwhale, an internationally acknowledged infographic production agency. He helps businesses increase visibility on the internet with visual data and well-placed outreach campaigns