Google and Facebook offer places to post your services without a website. Is this enough to make a decent impact to sell your services or products online? Let's take a look!
Let me explain the image. It shows the cow getting somewhere but there are faster ways i.e legs 🙂
So, This might sound like a stupid question coming from a web developer, but recently I've seen even more options for start-ups when it comes to having the bare minimum in web presence. I'm going to go through some of the main options out there currently and give a quick overview of them.
1: Google Business Page Website
If you don't already have a local listing on Google, take a look through this article on how to get a google business page to have a local listing. If you do, you can now add a very basic website to it if you don't have your own yet. Login and click Website on the left menu to edit your page.

It will pre-populate the site with the details on your local listings to save you some time and you get a few options to jazz the site up. You can change the about section, update some images on there and change the cover photo but that's as far as it goes currently. You also get a custom link to the site, but you have zero control over it and it's long winded so don't go putting it on business cards!
Verdict
It's something to setup I guess and I'm not sure if you get any Google rankings kudos, but if you are serious about your business do not send out the URL to anyone… not even your pets. It would be like sending your Tinder profile to prospective clients.
Google Business Page is 100% essential if you have a business, but the 'website' is not 🙂
2: Facebook Business Page
These are also essential for any business as you need to do any sort of advertising on Facebook. As far as relying only on this for a business, you are going to find limitations. For example, you can't add a Pixel to it so you can't re-target people who looked at your Facebook page.
You can do a lot with them though, like add in services, products, get reviews, add videos, images etc which is a lot more than the Google business site offers. So, for someone starting out, it's actually a great place to start. It's a 5 minute setup time and you can get a few likes from your friends to open up some of its advanced options.
You also get to boost posts to reach people that would have never heard of you and start getting your brand and business known. Facebook makes it super easy to boost posts and sell you on that option all the time…. because that's how they make money.
Can it replace your own website though? Not entirely. I mean, it will get you some good exposure if you have your Facebook game on point. By this I mean, putting out engaging content, getting that contact button clicked and getting legit reviews left and right. You'll even rank on Google if you've got your keywords in the custom link Facebook give you.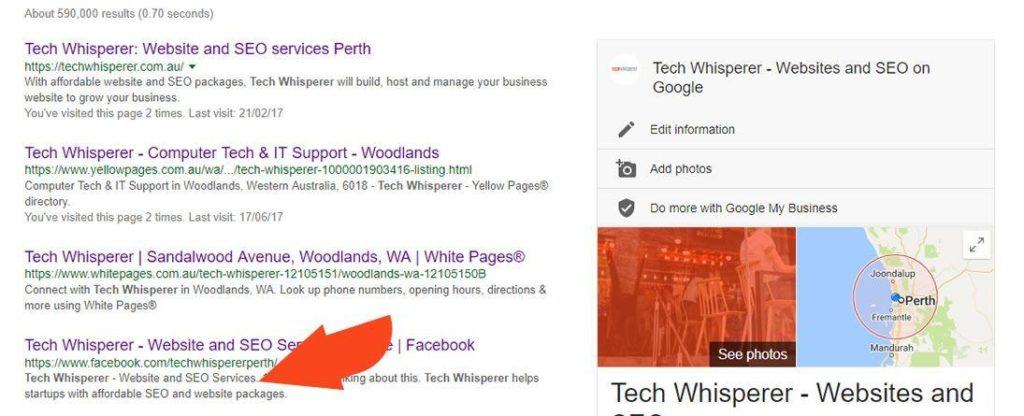 If you search 'Tech Whisperer' my Facebook page rocks in at 4th below my website, yellow pages and white pages (we'll get to those). This will probably improve over time to second place, but will never outrank my actual website. This is only because I do all my work on my site and share blog posts like this on my Facebook page to get some quick traffic to it.
The Facebook page would not rank for some of your service keywords though, which is one of the biggest wins of having a website. You can write posts which look like a blog, but it's not going to rank. Did you ever come across a social media post on Google? If you search 'Website and SEO' you will not be seeing Facebook links.
Verdict
You need one as much as a Google local listing, but again, if you want to look professional to your potential clients then this isn't enough. I still see people today posting their FB page link in groups and the URL isn't even a custom one, like this example: https://www.facebook.com/Paws-Claws-Wings-N-things-1874623359469859/ <– Found this at random.
Fix that before you post, it just adds that extra level of professionalism 🙂
Want to learn how to create your own WordPress website?
3: Local Directories
This is a grey area for me. If you go with just a Yellow or White Pages (which are Sensis branded now) then you're good to go with getting reviews, but you can't use this as your sole online business winning portal. True Local is another one. These are good to get a little bit of extra exposure on your services but don't stop there!
Two others I've seen people use as their only source of business are:
Hi Pages – Specifically for trades, this is actually a very good way to get business. It does cost per quote but the site is well established and there are a lot of clients using it.
One Flare – More general services offered here but again, pretty well known so clients are on there but it does cost you per quote you send out, not per job you get. That can be pricey if you don't have a competitive quote handy.
All these places offer a review service which you know is key in today's online world. As for just relying on these, potentially you can make a good start with Hi Pages and One Flare, but you'll only grow so much.
Verdict
Good to have your name in some local directories and as most of them are free to set up, then it's worth it.
Conclusion
There are others you can use such as Etsy for creative types or Amazon for the authors out there but in general, these will only get you so far. Having your own website gives you a whole range of advantages. The main would be total freedom to add in whatever functionality you want :).
Getting started isn't expensive anymore so check out some website packages available. Making a start on the wrong platform will be though, and I don't just mean money, it's the time wasted getting to a point that you realise your business has outgrown the software capability. I wrote an article describing just this and why I only use WordPress when building a business website.
Feel free to get in touch for a chat about how you can utilise the full power of the web for your business 🙂